Needing some Club Tropicana in my life…
Lovehoney sent me a cami set a while back. Since I've been in a bit of a sex drought and it's been winter I've not really felt much like reviewing. But despite the fact that I don't really like taking photos of myself in sexy stuff at the moment, because it's a bit of a faff I will write what I think of the cami set and supplement this post with sexy images from Lovehoney's site, because it's my blog so my rules.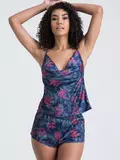 The cami set is from the Moonlit Tropics range. I received mine in Large (which equates to a UK 14-16). It's currently on sale with 60% off. The usual price is £34.99. The sale price is £14.00. Even better is the promotion extends across the whole range, so if you've previously bought yourself a cami set, and now you want the boxers to match with your significant other, or vice versa, then you can save money while looking and feeling sexy/comfy too! Win-win, in my book.
So what do I like about this cami set? Firstly, I love the Tropical themed print with the gorgeous colour combo of purple and magenta. It's bold, bright, and hints at a bit of luxury. Also, the fabric provides the comfort of feeling like you're on holiday when really you're standing in your bedroom wishing you were somewhere more exotic, like Bali. It's a satin-feel fabric made from 95% polyester and 5% elastane. This means it will feel lovely and cool on your skin when you're somewhere warmer than the UK is currently. Not only that, if you happen to enjoy dry humping, then it's a great slide-y fabric for that purpose too.
With how I kind of indulged a bit over Christmas I have been feeling less body confident recently. Not to mention, when I get annoyed by my bras digging in after a day trying to flog shiny things to people it's a relief to slip on something that lets me relax, and let it all hang out. I just put my cosy dressing gown over the top, and I'm in heaven, haha.
On the flip side, one thing I will say I'm not so keen on with the top part of the cami set is that at the front, along the neckline there is this bit of folded over fabric that isn't secure in any way. I'm not really a sewing kind of person, but if you are then a couple of tacking stitches or using your overlocker if you have a sewing machine will solve that gripe. So don't necessarily let that put you off.
As for the shorts, the elastic feels comfortable around my mum-tum, and I can flash my th-utt (the region around the top of the thighs and butt cheeks) to my heart's content. What's not to like? All I need now is to slap on the fake tan, and I really can pretend I'm in Bali.
As for the washing instructions, they advise you to wash by hand on a cold wash. It's kind of up to you whether you follow these rules or not.
Get the robe to match: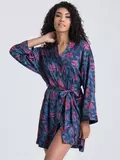 I received this set free of charge, in exchange for my thoughts and opinions. I do use affiliate links in this post, which will enable me to earn a small commission at no extra cost to you. The funds usually get put back into funding this site.