I recently received the Happy Rabbit Beaded G Spot vibrator from Cara Sutra, on behalf of her Pleasure Panel review scheme.
Here's a snippet from the review to highlight what I liked about this latest addition to the range.
When I held the ears against the tip of my nose, I felt that the vibrations were reasonably rumbly. Those who prefer more power will hopefully find that the Happy Rabbit delivers enough oomph! As for the shaft, the rotations are sufficiently powerful, and you can feel the beads revolving under the silicone. In terms of its orgasmic capability, the Happy Rabbit Beaded vibrator does elicit strong blended climaxes. Overall, I'd rate the Happy Rabbit Beaded Vibrator 8/10.
I had one going up for grabs in December 2018, as part of my 2nd year blog anniversary giveaway!
Currently on sale at Lovehoney for £79.99
If you're interested in owning one yourself, then purchase yours by clicking the image below: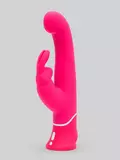 While you're here, check out my review of the Desire Rabbit Vibrator.