I've tried and tested a couple of Fun Factory toys; (please see my posts on the Fun Factory Jiggle Bouncer and the Volta, if you are interested in other toys by the company). As the Fun Factory Stronic Drei is an expensive toy, I had not felt compelled to purchase it until I recently came across  Orgasmic's Fun Factory sale. I knew it was a 'pulsator' rather than 'just a vibrator' so it seemed to offer something different from my usual toys. Additionally, the textured grooves and curved tip appealed to me as I enjoy some G-spot stimulation along with an internal massage. I had seen favourable reviews for it on other retailer's websites, as well as on Orgasmic's site. I figured I'd jump at the chance to own the Fun Factory Stronic Drei for a snip of its usual selling price.
Firstly, the Drei arrived in a discreet plain box from Orgasmic. Thumbs up. The Fun Factory packaging consists of a black outer sleeve showing the Drei in all its bold colourful glory on one side. The other side features a couple embracing with the female of the couple scratching her male lover's back, ouch! I find the outer sleeve a bit too 'in-your-face' for my personal taste. The golden slim-line box that houses the Drei and its magnetic charger, plus instruction leaflets is much more tasteful. It simply has the Fun Factory logo on it.
Click 'n charge
As for getting the Drei ready to use, charging is simple via the magnetic USB 'click 'n charge' cable. You just have to wait 16 hours…oh. Whilst waiting for it to charge I looked at the Drei, giving it my scrutiny. It is a hefty toy! Perhaps best to make sure you don't try using it if you feel overly tired or have aching arms. It will only compound these issues. The silicone has a lot of drag. I mean a lot, so considering its girth, it will need considerable lubricant (not silicone-based).
In terms of functions, there are three buttons on the handle; the red FUN button that gets the toy started, the plus button (+) and minus button (-) which cycle through the programs. The buttons also operate a key lock system, so you can be assured your Drei won't pulse to life during transit and waste that long-awaited charge. To lock the keys press and hold the FUN and (-) buttons for half a second. To unlock, press and hold the FUN and (+) buttons for half a second.
About the pulsation modes
The Drei can be used vaginally or anally, as it has a flared based. I'm only intending to use it vaginally though. For the purpose of this review it will only be tested in this way. It should NOT be used whilst it is connected to the magnetic charger (duh!), and it can be harmful to pacemaker wearers. In terms of its functions, it certainly puts some fun into the word function. There are 10 modes; 3 of which are 'algorithmic', 4 are 'constant' and the remaining 3 are 'dynamic'. To switch on, press the FUN button to get the 'Perfect Start' constant setting. From here, you can press the (-) button once, twice or three times to cycle through the algorithmic modes; 'Rattle', 'Gallop' and 'Dirty Dancing.'
Pressing the (+) button three times takes you back to the 'Perfect Start.' Alternatively, just press FUN to switch off, then switch it back on again. To cycle through the 'constant' modes (which increase in intensity) simply press the (+) button once to get to 'Samba', twice to get to 'Rumble' or three times to get to 'Quicky.' Continuing to press the (+) button another three sequential times will take you through the 'dynamic' modes; 'Roller Ball,' 'Vienna Waltz' and 'Rumba.' This probably sounds a lot more complicated than it is…cue picture!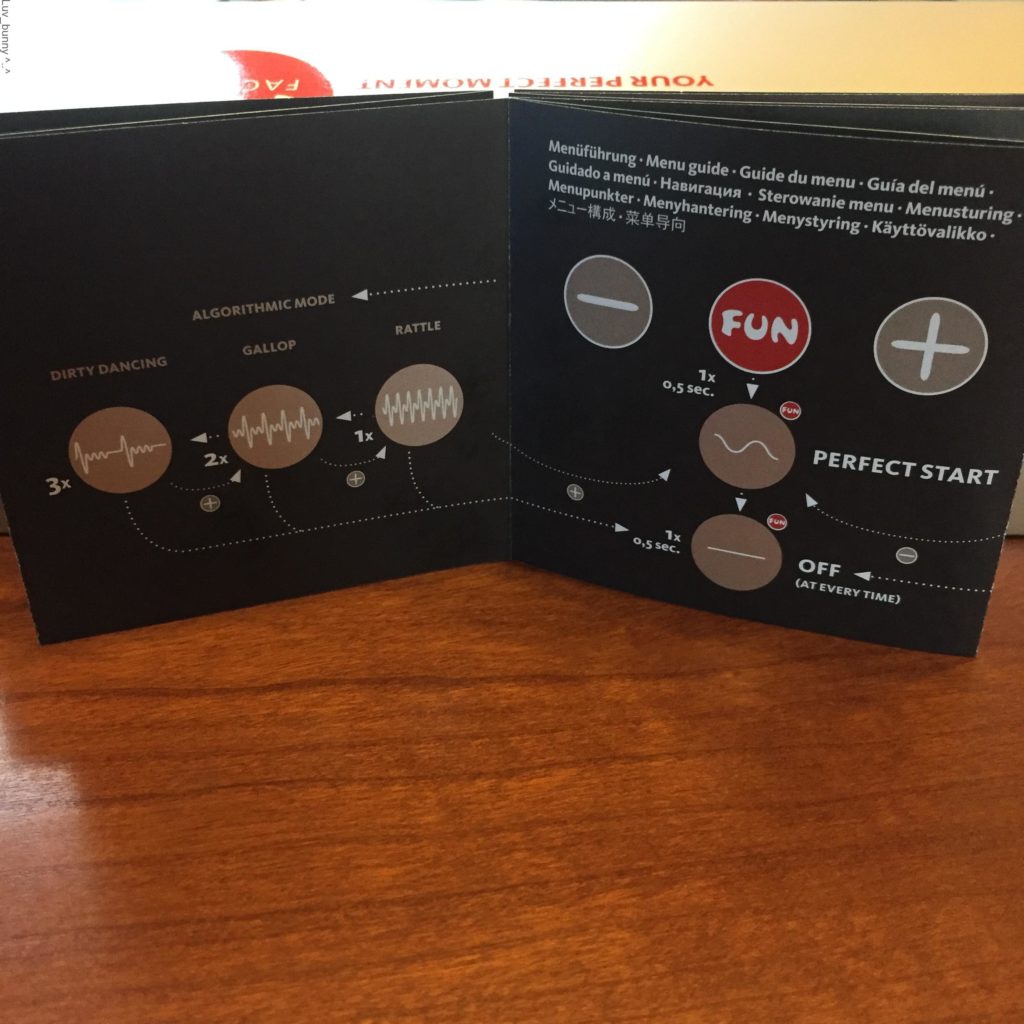 Does the Stronic Drei get me wet?
Now its time to actually review this toy! On pressing the FUN button it actually makes my arm shake, and it does need plenty of lube to insert it, otherwise the silicone drags too much and it feels uncomfortable. Going through the patterns was fun for the novelty factor, but I can honestly say in nearly 20 minutes of play time with the Drei, they did not really feel 'effective' in getting me aroused and making me climax. The pulsing action caused my flesh to 'wobble' but internally it didn't really do an awful lot for me. The tip didn't seem to stimulate my G-spot very well, no matter how far the shaft was inserted. The flared base did not reach my clitoris whatsoever, so for clitoral stimulation (which I need to orgasm) I had to use my trusty battery powered wand.
And the pulsing, though a new experience, was nothing like the action of 'proper sex;' it was more a shake and rattling sensation on my lady parts which just bemused me and left me feeling frustrated. The textured grooves gave some degree of massage but not enough to write home about, and they seemed to serve better at trapping lubricant and body fluids. Cleaning was not too laborious- just wash in warm soapy water or with a sex toy cleaner, then leave to air-dry. Do not dry it with a cloth / towel or anything else, as the silicone is a lint-magnet!
Eins, Zwei, Drei, is this a toy I should buy?
So what did I like about this toy? The magnetic 'click 'n charge' feature I like a lot. Just not the 16 hours charging time. The pulsing is nice if you want a sex toy that does the 'work' for you, but don't expect a 'sex machine' because it ain't that at all! I found the constant patterns, the 'Rattle' algorithmic mode, and the 'Rumba' Dynamic mode to be my preferable functions.
Buy your Fun Factory Stronic Drei here!
Affiliate links are used in this post. Please support my blog by using them if you wish to purchase from the recommended retailers. I will earn a small commission at no extra cost to you, thank you! xx