G spot stimulating intimate part spreader
This grooved bendy silicone 'gizmo' is from You2Toys, and was purchased from Lovehoney. I liked the idea of being spread and exposed, but my other half didn't fancy using a speculum.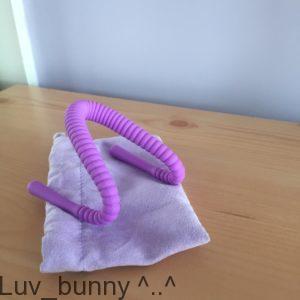 The 'spreader' is super bendy, so is pretty easy to get into the required shape. The packaging is a little box with a picture of a model and small cartoon showing the intended use of the toy. Not the most attractive of sex toy packages! It resembles a porn DVD cover or top-shelf magazine poster, but it's functional enough.
In use, the spreader is comfortable and provides some stimulation to the inner vaginal front wall. Particularly if it's tapped by your partner or if you hold a vibrator against the protruding arms. It holds the labia open to fully expose the clitoris. This makes it really useful for oral sex, especially for those with larger inner labial lips. It measures 28cm long. We did try it out during sex but found it got in the way. In our experience, it's best for oral sex only.
The grooves do make it a bit more laborious to clean, but some sex toy cleaner and a toothbrush get it all scrubbed up ready for the next time. Currently, this toy doesn't get as much use as it could, though I would like to change that!