My second toy tested from my recent Tantus splurge, is the Midnight Purple Echo. It boasts 6 inches insertable length and 4.5 inches in girth. The Echo comes packaged in the standard Tantus-branded white and colour box. Also included is a 3-inch bullet, that can be inserted in the hole in the base, akin to the Vamp. This silicone delight is pretty firm in texture, though slightly squishier than the Vamp, and also less thick. It is more textured and less realistic looking in comparison to the Vamp, having 5 waved ridges along its length.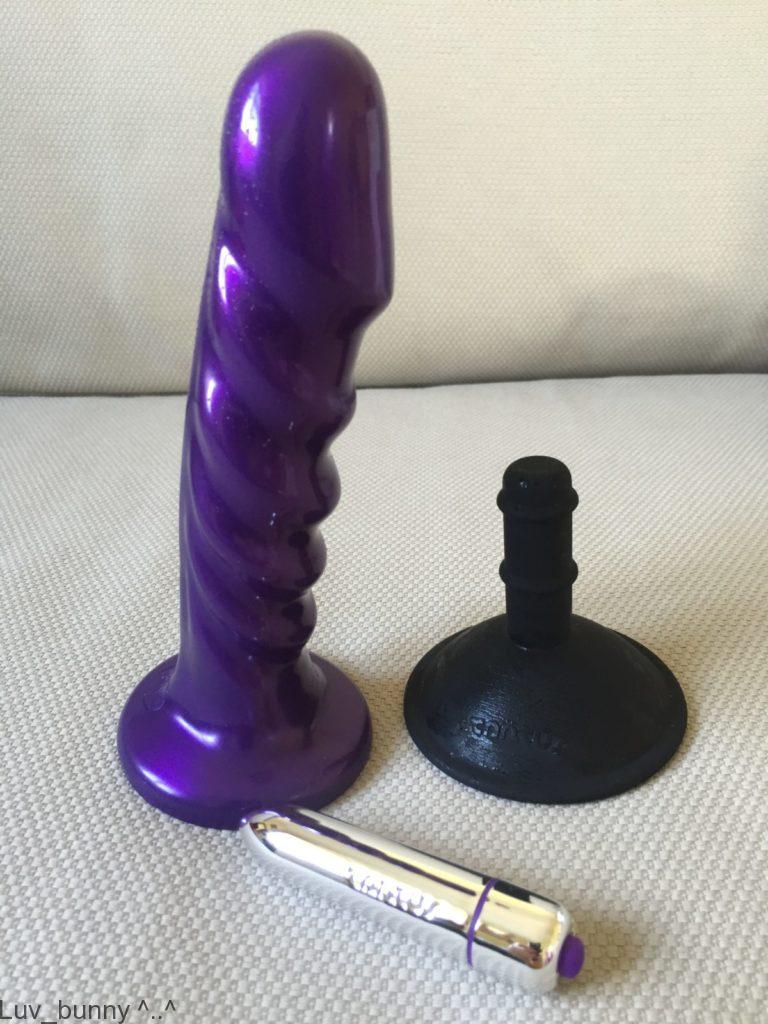 Testing the suction cup
Having bought a suction cup to go with the Echo, I was keen to try it out in the shower. The suction cup did its job well, sticking to my tiled wall and holding the Echo in place. Despite trying to get well acquainted with this wavy purple appendage, it just didn't seem to work for me in the shower; I couldn't get the angling right. There were sadly no orgasmic reverberations going around my bathroom.
The bedroom held more success. Lying back on my bed I was able to thrust with the suction cup removed and my middle finger putting itself to use in the hole. Combined with the bullet on my clitoris, the Echo's thrusting got me to orgasm reasonably quickly. Determined to try the suction cup again, I had some inspiration to use a freestanding mirror. I leaned said mirror against the wall next to my mirrored wardrobe. This gave me a great angle to gyrate to my g-spot's content. Moreover, I had a cheeky side view and rear view of my derriere! If there's anything to get me going while I'm testing a new toy, its my own little playtime show.
I was able to twerk to Sean Paul on Spotify whilst making the Echo work on my front inner wall. The resulting orgasm was the more satisfying as the standing position with the innovative angling technique meant I got to make use of that sucker (suction cup). The waved texture gave my inner walls something to bump and slide against, making it more pleasurable than the Vamp. As its narrower, it'll probably be more suitable to people newer to dildos and, also provide more stimulation for anal play, though I have not used it anally at the time of testing.
Buying options:
Affiliate links have been used in this post. Please help support this blog, by using the links should you wish to purchase from these retailers. I will earn a small commission at no extra cost to you. Please remember to clear your cookies before using the links. Thank you, xx