As a Bunny that likes all things shiny and sparkly, I try pretty body adornments from time to time. After all, every body needs some bling!
Here are my thoughts on a few items I have bought and tried out.
Bijoux Indiscrets Flamboyant Jewels for breasts and navel
This gorgeous vivid green and blue jeweled body 'sticker' set was purchased a looooong time ago (2006)! It was only tried recently, after sitting in a drawer for literally years. So the proof is in the pudding on its 'shelf life-span' as the adhesive kept it firmly in place for about 24h. I then decided to peel it off. I had only worn the navel part, and I intend to attempt reusing it to see if it will still stay on my skin. If it fails, all will not be lost, as I could still use the two 'breast' adhesive adornments on my navel instead if I so wished. Thus enabling even more longevity out of this product.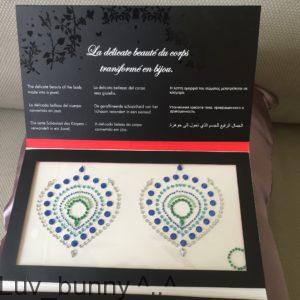 I'd love to try out other colour variations of this design, so I will definitely buy from Bijoux Indiscrets again!
Spartacus Beaded Clit Clamp
This pretty purple clamp was bought from StarSexToys.com. Admittedly it has only been tried once…I've been too scared to try it again. I will bite the bullet, or rather, let the Spartacus bite my clit, again! I just need to steel myself, as it did bite. Hard.
The tweezer coating does slide off quite easily, but it is simple to slip back on. The o-ring attaching the beaded part does have a large enough opening to allow the jewelled end to fall off. A quick pinch with some pliers will sort that out.

Vajazzle
Although no longer available from Lovehoney, this cute diamante cherry body adornment was purchased in a 3 for £15 offer.
The fact it is a couple of bright red cherries on a stalk makes it seem deliciously naughty. I wore it on my groin under my pants for a sexy surprise for Mr Bunny to find. He liked his fruity treat! The jewels adhered well despite sitting in an area that was 'folded' at times during the day. One of the green jewels came off from the stalk, but this does not detract from the overall look. I'm hoping to reuse the Vajazzle with the help of some eyelash glue.
Affiliate links have been used in this post. Please support my work on this blog if you like what you read and wish to make a purchase, as it will earn me a small commission at no extra cost to you. Thank you xx