The Living Room Parties recently followed me on Twitter. Following a short dialogue over DMs, they kindly offered me 2 complimentary tickets to a Saturday night Zoom party.
For their next party on the 27th June, a code can be used when booking tickets to receive 20% off. Apply the code LUVBUNNY20 😉
The format of the party is you log into Zoom, (with a partner/ 'a PAL' who you feel safe around). There is a Kik chat group for party-goers, that you can join in to get to know people attending the party. Once you've signed up and paid for tickets (£10 in advance, £15 on the day), you'll be sent a welcome email which gives some advice on how you can prepare for the party.
Originally, these parties were in designated venues, in various cities around the globe. Back then, they were face-to-face, but since the Covid-19 outbreak, they've been tweaked to an online version. There are a couple of friendly hosts present to facilitate the gathering, and they take you through the ground rules. These predominantly relate to:
discretion; what happens at the party, stays at the party. Confidentiality needs to be respected, as attendees are real people with jobs and families etc. For this reason, you need to be in-frame the duration of the party.
consent; you can switch on a red cross in the 'participants' field, by your name, if you do not want to flirt. There's a green tick that you can switch on if you're happy to flirt. You can change your name as soon as you enter the party if you wish, so you can remain anonymous. If you're feeling playful, create a pornstar style name. 😉
To make the evening relaxed, there is a DJ set of some funky music to listen to, whilst guests are allowed in.
Who can attend The Living Room Parties, and how do I prepare?
The parties aim to be all-inclusive, irrespective of your gender identity, sexuality or expression. Your reasons for attending can be anything from feeling lonely/ wanting to meet new people online, or as a way to communicate with a remote partner when you both sign in to the same party. In this scenario, the assumption would be that they could act as your 'PAL'.
Alternatively, you may be a couple living together in a relationship, and adding a different dimension to your sexy adventures. Or even just housemates wanting to explore your sexual side with a trusted companion.
In my experience, Mr Bunny was my PAL. The preparations we undertook included getting our laptop set-up in our bedroom as that's where we have the most privacy. I'd sorted out things like masks to protect our identity. Some people wore them, others didn't, it all comes down to personal choice. I'd put some sex toys, lube and massage oil on our bed, so they were close-to-hand. Drinks were a good idea too, so we could remain in-camera shot the whole time.

Other things you could have to set the scene include cushions, comfortable blankets, a comfortable chair and massagers. One occupational health factor to consider is where you have your laptop or tablet. Ours was perched on a drawer unit, that was slightly too far from the bed for the inappropriately-sized screen we were using.
Bringing the laptop to the bed meant we were looking down at a screen, which isn't great for necks and shoulders. It might sound obvious, but when you're new to this format of meeting/ potentially in a rush (like we were having a youngster who didn't want to go to bed), these are things we'd have considered more in retrospect.
What is the entertainment like during a Zoom session with The Living Room Parties?
It was a mix of performances, including a live piano performance of Debussy's Claire de Lune, which is a lovely piece to set the mood. I'm no pianist, but our lovely performer had spent about 6 weeks teaching themselves how to play this classic. Given the length of the song, I'd say that was a pretty significant achievement! The video I've linked to is to set the scene, rather than represent the artist.

Following on from this, we were treated to the visual delights of an aerial hoop 'Lyra' / burlesque performer. This lady made the choreography appear effortless, and had all of us enthralled. If you have an Instagram account, a video of the type of display she performed is available. Alternatively, she is on Facebook too. I liked how there seemed to be a Claire de lune theme running, with the first two performances. 😉
Sadly we missed one of the performances, as our connection dropped, and we had to spend 5 or so minutes trying to log back into the Zoom meeting. I reckon it would have been pretty awesome though. It was presented by the lovely Lacey Lustre, a genderfluid pole diva/ Showgirl stripper.
We managed to get back into Zoom in time for a seductive dancer who incorporated some wax play, whilst looking fabulous and sexily dancing with a chair as a prop. The performer dripped wax over their chest, adorned with nipple pasties. They playfully dripped it on their tongue as well.
Once all the performances had finished, there was a 25-minute break to allow people to eat, use the loo or do whatever they needed to do off-camera.
Giveaways and Icebreakers
There were a couple of toy giveaways for several lucky participants. Toys were provided by Black Honey Toys, in support of the #BlackLivesMatter movement. In addition, there were some 'breakout room' style ice-breaker sessions between smaller groups of participants. These discussed which sexual fruit we'd choose to be (peaches and plums were popular choices!), what we were wearing, etc. These were a bit of harmless fun, albeit slightly too brief.
Login time was about 9 pm, BST, and by the time the above had all taken shape, it was about 11 pm. By that time, we were feeling pretty knackered. We decided to skip the rest of the session, as it would have gone on until about 12:30-01.00 am. Given we'd be woken up at the crack of dawn by an excited 'little bunny,' we thought best to play safe! We quickly stashed our sexy stuff away before the inevitable early morning ambush. 😉
So there you have it- this was what our first experience of an online sex party was like 😉 Would we repeat it? Yeah, I think we would though it'd be better to do it on a night where we have childcare arranged.
If you have queries about the format of the party not answered here, or on The Living Room Parties' site, please feel free to comment. I'll answer questions, so long as they're appropriate 😉
Read about another one of my experiences here, if you like too.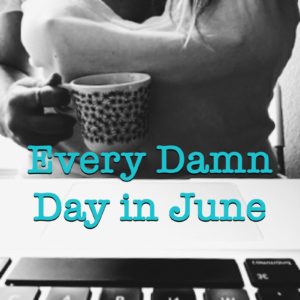 This post is not sponsored and does not contain affiliate links. The Living Room Parties kindly gave Mr Bunny and I our tickets. Their next Zoom party is scheduled for 27th June.